Newport News Naval
Newport News Naval Shipyard has been around since 1886, when it was founded as Chesapeake Dry Dock and Construction Company. Newport News Shipbuilding has produced more than 800 commercial and navy ships and has long been a prominent employer for people in Virginia and North Carolina. The shipbuilder also overhauls aircraft carriers and does modernization work on vessels such as Nimitz-class carrier.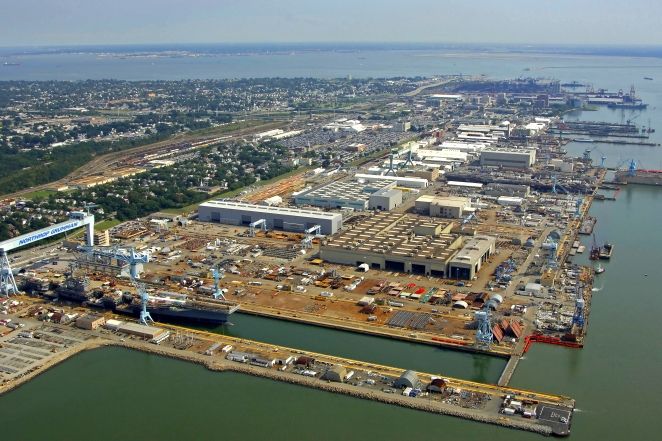 Like other navy ship builders in the World War II era, Newport News is also known for having used hazardous products to build its ships. The vessels overhauled by the company also used asbestos in their insulation, which was a common practice to keep navy ships as fireproof as possible prior to 1970. Exposure to asbestos-containing insulation and other products has unfortunately left thousands of former Newport News Naval Shipyard workers ill. Many have died from mesothelioma, lung cancer, and pulmonary problems that resulted from long term exposure to deadly carcinogens in the workplace.
Former workers and surviving family members have filed lawsuits against asbestos-containing insulation suppliers to gain compensation for medical expenses endured from workplace negligence. Newport News used insulation suppliers and manufacturers such as C.E. Thurston & Sons and Johns-Manville Corp. The workers who handled products containing these materials were not warned by these companies or their employer that their jobs were putting them at risk for debilitating conditions and deadly cancers. During World War II, more than 30,000 employees were put at risk by Newport News Naval and manufacturers. These employees constructed 70 ships, all of which contained materials that could lead to illness.
One former employee who worked as a mechanic and supervised electrical work at Newport sued the shipyard after working for the company for more than 30 years. After retiring in 1981, he was diagnosed nearly ten years later with pulmonary asbestosis. He testified that he commonly napped on his lunch break in piles of asbestos, not knowing that this material could lead him to become sick.
Another employee who worked on commercial tankers during his 17 years of employment at Newport News filed a lawsuit against Exxon, whose tanks he worked on without warning that breathing in asbestos-containing fibers would cause illness. These plaintiffs described their work environment as being filled with clouds of toxic dust fibers that they constantly breathed in with no protection or warning.
Manufacturers and shipyards were well aware of the dangers of asbestosis by 1940, but none of them informed employees of the risks. Many shipyards eventually began x-raying employees to try to prove that the damage from working with cancer-causing insulation products was minimal. Unfortunately, such studies only proved that the dangers were greater than anyone anticipated. It was later proven that asbestosis and mesothelioma can take more than a decade to show up on x-rays. Current research shows that there is no safe level of exposure, which is why these materials are no longer used.