Norfolk Naval Shipyard
The Norfolk Naval Shipyard, commonly referred to as Norfolk Navy Yard or NNSY, is located in Portsmouth Virginia. This United States Navy facility builds, repairs and remodels navy vessels. This shipyard is the oldest navy yard still in existence today. It was established in 1767. Business boomed between 1940 and 1945 when the Norfolk Naval Shipyard built more than a hundred ships for the Naval Fleet.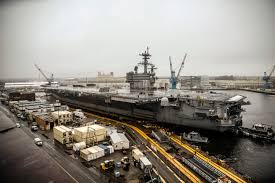 Like most shipyards that operated at this level during World War II, Norfolk Navy Yard utilized asbestos in the production of its vessels. This shipyard also used landfills to dispose of asbestos-containing waste. Between 1945-1983, the Norfolk shipyard used the Paradise Creek Landfill and other landfills for disposing of hazardous materials. This problem is still being cleaned up today.
Employees at the shipyard encountered asbestos-containing hazardous materials every day. They worked in close quarters and constantly breathed in fibers and dust that would later be known to cause mesothelioma, deadly pulmonary problems, and various types of cancer. Workers were constantly surrounded by asbestos and even wore gloves and uniforms made of the material, which was thought for many years to be safe, because it was heat resistant. Welders and insulation workers were particularly prone to exposure, as every aspect of their jobs involved being immersed in dangerous toxins.
Workers at Norfolk also typically brought the contamination home to their families. Because employees were not aware that they were working with dangerous materials, they had no way of knowing that the dust and fibers they came home covered in could eventually kill their loved ones. Although we currently know that second hand exposure to asbestos-containing insulation is almost as dangerous as first hand exposure, employees between 1940 and 1970 were not informed despite employers being aware of the risks.
Employers and manufacturers chose not to inform workers because they wanted to avoid losing employees and facing lawsuits. For decades, the dangers of asbestosis from working in such environments was kept confidential from employees but was widely discussed by executives who wanted to minimize their own risk of financial liability.
The contamination at Norfolk Naval was so bad that the U.S. Environmental Protection Agency has added the location to its National Priorities List as a Superfund site, meaning that the level of contaminants is a major concern for the environment and human health. Because the ground and water surrounding the shipyard were so contaminated, local residents who didn't even work at the shipyard were in danger of developing cancers and other health problems simply from taking a bath or breathing the air.